Creating the Foundation for a Best-In-Class Nonprofit Finance Team
Nonprofits rely on their finance teams to educate management and the board on all financial aspects related to the organization. Without a strong finance department, nonprofits risk not having the information needed to make critical decisions.
Here are four compelling reasons to ensure you have a strong finance department:
Fiscal accountability: accuracy and transparency of financial reporting helps instill confidence with funders and constituents alike
Effective resource management: developing budgets, monitoring cash flow, and implementing appropriate financial controls to ensure the organization has the necessary resources to achieve its mission and goals,
Compliance with regulatory requirements: ensuring the organization is compliant with legal and regulatory requirements,
Sustainable growth: developing strategies for long-term growth and financial sustainability
Implementing a few basic steps will help your nonprofit organization establish a world-class finance department that supports your mission and ensures you are in the best position to thrive.
Build a Strong Finance Department by Hiring the Right People
A strong nonprofit finance department is comprised of competent staff. To establish a strong department, it is essential to hire technically skilled staff who are well versed in nonprofit accounting requirements and best practices. These employees must provide the leadership team with the necessary financial information for planning, budgeting, and growth of the organization. Hiring staff without an understanding of the skills necessary to complete the routine finance tasks can undermine the growth of the organization.
To avoid hiring unqualified staff, incorporate accounting and technical skill assessments as part of the interview process or seek assistance from qualified accounting professionals in vetting potential candidates.
When filling finance department roles, contract or hire staff with appropriate education and experience. Here is what you should expect from someone qualified for your staff accountant and controller positions:
Staff Accountant
The staff accountant should understand debits and credits and have a working knowledge of the standard accounting job duties, including accounts payable, accounts receivable and payroll. It's also helpful if your staff accountant has audit experience.
For your nonprofit organization, it's always helpful to find someone who is familiar with and has prepared 1099s before. Experience with grant monitoring and required expense tracking for grants is a plus.
Controller/CFO
Your Controller or CFO will be the financial expert on your leadership team. They should be well-versed in financial reports and analysis, but also be able to explain complex financial concepts to board members without a financial background.
You'll want the controller to be comfortable closing the books on time each month and preparing financial statements. They should be confident in providing variance analysis and a variety of financial reports to help with risk management and forecasting. The person you hire for your Controller should have experience conducting and managing an audit. They should also understand the essentials of budgeting and cash forecasting. And it's helpful if they are familiar with grant compliance.
When to Outsource a Finance Role
The finance role can be a difficult one to fill, especially if you haven't had someone in that role previously. Consider if outsourcing makes sense for your organization, especially if you lack the necessary budget or skilled staff to build a strong internal finance department or for situations that require a specific skillset.
Whether you are hiring a full or part-time employee or outsourcing, be sure to perform background and reference checks on all finance staff. Once the right staff members are in place, they become the foundation for building solid financial systems and play a central role in maintaining a secure internal control environment.
Set the Right Tone from the Top
The finance team extends beyond the finance department. It involves management and the board, as well. Your leadership must create an ethical foundation that starts at the top. Establishing the proper tone and enabling it to permeate throughout the organization contributes to consistent and clear expectations, while promoting a secure internal controls environment.
Board members should exemplify this with ethical behavior. It is their duty to safeguard the organization's assets and its reputation. A good way to make certain that the organization's assets and reputation are protected is to ensure that there are proper financial policies in place, and they are being followed by all who have fiscal responsibility. Start with establishing and enforcing some basic financial policies and procedures:
Proper level of approvals over cash by management and board
Review of payroll
Review of credit card expenditures and avoid use of debit cards
Segregation of financial tasks to limit individual control over financial functions
Review bank activity daily and perform reconciliations monthly
Board Responsibilities for Supporting a Nonprofit Finance Team
While management is responsible for day-to-day operations, board members are responsible for strategic decisions and governance. This means that board members must actively participate in governance, act in the best interest of the organization, ensure the organization complies with applicable laws and regulations and carries out its mission. Board members carry out these responsibilities as they relate to Finance through three Board Committees with distinct responsibilities:
Finance: Review financials and budgets and monitor policies and procedures
Audit: Oversee the independent financial audit, legal and regulatory compliance
Investment: Create investment policies and report on investment activities
It is the finance team's responsibility to educate the board on these financial and fiduciary responsibilities so the board can best support the finance team and the organization. As part of this education, your finance team should oversee basic training in nonprofit financial management and promote interaction with finance team members both in committees and at board meetings.
Characteristics of a Strong Finance Department
A strong finance department can sometimes be easy to overlook when processes run smoothly and reports are accurate. You can tell if you have a strong nonprofit finance department if they:
Follow Generally Accepted Account Principles (GAAP)
Maintain grant compliance and account for donor-imposed restrictions
Provide timely and accurate monthly financial reports and analysis
Conduct a financial statement audit annually
Communicate federal, state, and local compliance requirements to management
Use a financial calendar to ensure deadlines are met
Strong finance teams welcome audits and view them as opportunities to validate the control environment and financial reporting. Boards, management, and staff should recognize the purpose of an audit is not to identify fraud but to provide an independent opinion on the financial statements. It is the assurance that financial statements are fairly presenting the entity's financial performance. Remember, clean audits enhance transparency and confidence, which may translate into increased contributions or grants.
Strong finance departments are able to easily communicate financial data to a nonfinancial audience. Ideally, monthly financial reports should include a memo and data visualization that helps convey the nonprofit's financial story in ways that enable nonfinancial readers to quickly understand complex information. When management and boards understand the financial picture, they become more effective leaders and champions for the organization's mission.
Learn more about what makes a best-in-class finance team and how you can develop one at your nonprofit organization by joining our webinar, 10 Tips for a World-Class Finance Department.
Fund Accounting Software that Drives Impact
Find out how Blackbaud's Financial Edge NXT® fits your organization.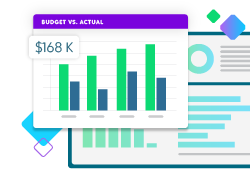 ---