3 Ways Expense Management Can Help Your Nonprofit Close Its Books Faster
Can your nonprofit confidently say you are successfully closing the books on time every month—or even most months? As someone who has worked in this industry for more than seven years, I have seen my fair share of bank reconciliation challenges. I know a few horrific memories of trying to find what was out of balance just popped into my head!
How many unsuccessful bank reconciliations does it take before we evaluate our process to be more efficient? This does not always mean spending more money but finding ways to let your accounting software work better for you. The expense management tools in your fund accounting system are a great example of working smarter—not harder—and utilizing the functionality built into the system to create these efficiencies.
This is the year to end these manual processes, human error, and dreadfully long bank reconciliations. Here are three ways having expense management tools built into your fund accounting software will help streamline closing the books.
Automate Expense Requests and Credit Card Matching
Every person who works for a nonprofit has wished there were more hours in the day. Manually adding transactions, matching and clearing them, and tracking down approvals can be time-consuming. These are common areas where your nonprofit financial teams could be automating processes and having more time back in your workday.
Think of all the hours you would have back if cardholders could submit their own charges for approval, if you could automatically download transactions, or if the system would match and clear transactions for you.
Expense management tools such as built-in Credit Card Feeds allow your cardholders to submit their own charges for approval within the system. Your Finance or Board members could be self-sufficient in submitting their charges while still following a separation of duties, which gives your staff more time to focus on their own tasks and helps you maintain strong internal controls. Credit Card Feeds then match your online bank account and mirror this data as it automatically downloads transactions. Your accounting staff will be able to see these transactions in real-time to eliminate the need to manually add them.
Incorporating expense management tools into your daily workflows allows your fund accounting software to bear the brunt of manually adding and matching transactions. This will enable your staff and cardholders to manage their own charges by submitting them for approval, which will be automatically tracked within the system.
Fund Accounting Software that Drives Impact
Find out how Blackbaud's Financial Edge NXT® fits your organization.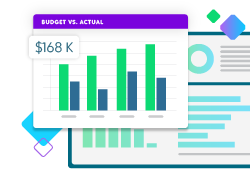 Minimize Human Error with Approval Rules
With hundreds of continuous transactions and stress over deadlines, human error is a major risk when closing the books. With financial automation, you can reduce this risk and improve efficiency. Rather than spending hours double and triple-checking each transaction to ensure accuracy, you can incorporate credit card feeds and customizable approval rules. Preventing risk and inaccuracies will minimize monthly exceptions and, over time, you will see improvement in the time it takes to close the books.
Accounting teams love to use spreadsheets, but at some point, we need to unify all our data in one spot and take advantage of functionality built into your fund accounting software. Incorporating the usage of expense management tools will bring all your transactions into one verified location where you can pull accurate financial statements for Board Members and other stakeholders, giving everyone in your organization a single source of truth.
Tracking down approvals during an audit can be stressful enough, so expense management tools can keep a log of changes as a charge or invoice request goes through its approval path. Using customized approval rules for each cardholder will minimize the concern for human error and risk when approving costly transactions. Some mistakes may be inevitable when it comes to closing the books, but you can minimize these errors when you take away manual data entry.
Create More Value to Your Essential Software
Still paying for disparate systems? Using an essential fund accounting software should mean you have the fundamental workflows in place without having to outsource for every task. Expense management tools can allow you to incorporate credit card charges and invoices—with documents attached—into your accounts payable processing in one spot. You can remove the need for housing data in decentralized locations.
Create more value with your fund accounting system by using expense management tools. These tools have built-in automation and functionality for all your staff and cardholders to adopt. When your system is user-friendly, your staff and cardholders will quickly recognize the time savings. You can incorporate expense management tools that allow you to boost your return on investment and be confident in the data you provide for audits. You can reduce compliance risks and give you more time to focus on strategic planning. There is value in having full confidence that your fund accounting software works for all your business needs.
It's Time to Automate Daily Workflows
Your financial team can create more value with expense management tools by automating processes, minimizing risk, and having successful monthly bank reconciliations. With these tools, you can make closing the books more streamlined and Expense Management can be that solution for your organization.
Want to see Expense Management in action? Join our experts in a full deep dive of the module including our Best Practices and recommendations for how you can get started today.