5 Effective Annual Giving Campaign Ideas to Maximize Success
Fundraising events and one-time campaigns are great ways to raise money for your organization, but infrequent fundraisers don't provide consistent income. Annual giving campaigns can raise money to cover your day-to-day expenses by bringing in a steady stream of funding.
Annual giving covers a nonprofit or university's efforts to raise ongoing, generally unrestricted donations throughout the year that will help fund regular operations. It serves as a funding pipeline that sustains your operations and allows you to grow your impact over time.
A significant number of yearly donations are contributed in the last three months of the year, so the year-end giving season is particularly important for your annual giving campaign. The challenge is that your campaign will need to promote your organization's general needs rather than a specific project or program. Tell prospective donors your story and mission to show them why your daily operations are important. Follow these five tips to maximize success in your giving campaign this year:
Set a theme for each year's annual giving campaign.
Plan kickoff and wrapping up events.
Facilitate peer-to-peer fundraising.
Engage with supporters on social media.
Make the most of giving days.
Annual giving campaigns are great opportunities for you to engage with your donors and make them feel like they're a part of your organization. Knowing that they're helping to sustain and grow the daily operations of an organization whose cause they support can give them a feeling of inclusion and significance to your cause.
1. Set a theme for each year's annual giving campaign.
Your fundraising campaigns are usually geared toward reaching a specific goal. For example, you might plan and host a fun run to help fund your animal shelter's increased veterinary needs and to hire a new vet tech. Annual giving campaigns, in contrast, don't point to a specific project or program. Your appeals will be geared toward your organization's operations rather than one specific project.
To motivate donations for this general funding, give your campaign a theme each year. Here are some examples of theme ideas:
Support your neighbors this year
Join the Wildlife Warrior Club
Give back to students in your community
Pay it forward
Unique, branded materials for your campaign will help tie the message to your organization. Also, humanize the fundraising by giving a face to your campaign. Interview community members who have been supported by your organization and let them tell their stories in their own words.
BWF's steps to annual giving encourage storytelling through your annual giving campaign. Your story should have a clear message and a compelling case for support. As the final touch, use images and videos to really make your story come to life.
2. Plan kickoff and wrapping up events.
At the beginning of your annual giving campaign, generate excitement with a kickoff event. You might:
Plan fun activities, such as a live concert or free luncheon.
Promote your events using multiple platforms.
Promote your fundraising goals and explain how they'll support your growth goals for the coming year.
As the campaign comes to a close, host a wrap-up event to provide closure and recap your accomplishments. To conclude the fundraiser:
Announce and celebrate reaching your goal at the end of the year.
Thank donors for their contributions.
Communicate that you want to see your donors again next year.
The most important part of event planning is communication. Whether you're kicking off your campaign or wrapping it up, promotion is the key to getting your community involved. Use multiple platforms to announce your event and invite your supporters.
3. Facilitate peer-to-peer fundraising.
Peer-to-peer fundraising is a campaign in which supporters create personalized online giving pages and use them to gather donations from family members and friends on behalf of your organization. Incorporating this strategy into your annual giving efforts is a great way to get your supporters more personally involved. DIY-style fundraising, in which supporters can launch their own peer-to-peer pages at any time, can also unlock a new year-round revenue stream for your annual fund.
To facilitate effective peer-to-peer fundraising:
Reach out to supporters personally to invite them to participate. Connect with long-time or particularly engaged supporters to get them involved. Or, if you take a DIY approach, heavily promote this new option to your audience of supporters.
Plan engaging events alongside your peer-to-peer fundraisers. These may include 5Ks, walk-a-thons or fun runs, team trivia nights, etc.
Make it easy for supporters to get involved by offering an easy-to-use online donation platform and tips for promoting their personal donation pages on social media.
Your fundraiser should always incorporate a digital strategy, but peer-to-peer giving is especially successful because family and friends are the most convincing advocates for a cause. This type of giving combines the advantages of digital fundraising and word-of-mouth advocacy. By having your supporters spread your message and advocate for your cause, your campaign will reach a wider audience.
The Nonprofit CRM Built for Fundraisers
Find out how Blackbaud's Raiser's Edge NXT® fits your organization.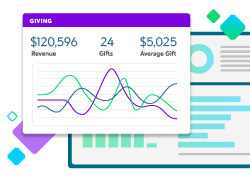 4. Engage with supporters on social media.
Online fundraising can reach a wide audience, but social media is especially effective when it comes to keeping up with your supporters throughout the year. The variety of social media platforms makes it easy to engage with nearly any demographic and your message is more likely to be seen when it's part of someone's newsfeed. You might use different social media to accomplish different goals:
Instagram: Instagram is visual-centric, so use captivating images and videos here to capture your audience's attention. Like and comment on supporters' activity to show them that they're noticed and appreciated by your organization.
Facebook: Set up a fundraiser on Facebook that users can donate to through the app or share with their friends.
TikTok: Participate in trends and post regularly to make popular videos for your organization. These videos can also be shared on other platforms.
Use social media to highlight your activity and build relationships with your supporters. You should post regularly on all your platforms during your annual giving campaign to keep your supporters engaged.
For example, you might post a new supporter story once a week or use Instagram stories to give a behind-the-scenes look at your organization's operations. You can also create a hashtag for your campaign to use on every platform.
5. Make the most of giving days.
Giving Days are dedicated days for donating virtually to an organization. They usually aren't accompanied by events and can be easily shared on social media.
Your nonprofit might take part in Giving Tuesday or a giving day that's unique to your organization or mission. For example, you might plan a giving day to take place during an affinity month that's relevant to your mission or on a particularly impactful day for your university, like the day it was founded.
Not only do giving days bring in donations, but they also grow awareness of your organization and cause. Make the most of this opportunity by planning your annual giving campaign around upcoming giving days.
Through hosting events around your campaign and social media activity, you can engage your community and gain their support to provide stable year-round funding. Fundraising for your university or nonprofit can be more consistent with this annual campaign approach. Also, your support system will expand when your supporters share their interest in your organization with their friends and family.
Campaigning for funding throughout the year isn't just about raising money for your organization. Through an annual giving campaign, you can establish your organization in the community, connect on a more regular basis with your supporters, and bring awareness to your cause.